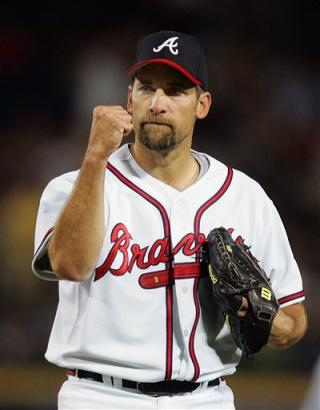 In case you missed it, we ran through the American yesterday. Now on to the senior circuit. For entertainment purposes only:
Arizona Diamondbacks Ð 86.5
Under: The Diamondbacks won 90 games last year, despite allowing more runs then they scored. Dan Haren is a nice addition, but heÕs allowed an average of 27 home runs over the last three seasons in a much more pitcher-friendly environment. Chris Young, Stephen Drew, Justin Upton, and the like will have to progress significantly for the D-Backs to return to the postseason.
Atlanta Braves Ð 84.5
Over: Andruw Jones is gone, Chipper Jones is another year older, Jeff Francoeur is still vastly overrated… and IÕm still taking the over. Atlanta underplayed their run differential last season, and a full season of Mark Teixeira should only help. Look for Smoltz and co. to be a darkhorse in the National League this year.
Chicago Cubs Ð 87.5
Over: The Cubs have quietly improved themselves a great deal, adding Kosuke Fukudome and shifting Geovany Soto into the everyday lineup. Rich Hill should have at least one or two superstar-caliber seasons in his career; if 2008 is one of them, the Cubs could beat that number handily.
Cincinnati Reds Ð 79.5
Over: This team could be competitive, if managed correctly; I don't have that much faith. But they are talented enough regardless to beat up on the Pirates and Astros and play .500 baseball.
Colorado Rockies Ð 82.5
Over: Those 90 wins last year were not an aberration; the Rockies led the National League in run differential. Even if things don't break quite as perfectly as last year, Colorado should be able to top 82.5.
Florida Marlins Ð 68.5
Over: Miguel Cabrera and Dontrelle Willis are gone, but there's still some substance left over. Hanley Ramirez is a stud at shortstop, and Dan Uggla has become a very productive second baseman. If 2007 was Jeremy Hermida's coming out party, 2008 could be the year he establishes himself as a true star. This isn't a good team, but they should be able to reach 70 wins.
Houston Astros Ð 72.5
Under: Somebody has to lose to the Pirates.
Los Angeles Dodgers Ð 87.5
Over: Perhaps this is a bet on sensibility overcoming familiarity. The Dodgers have the horses to win the NL West, but Joe Torre may still need to figure that out. A pretty good pitching staff should carry them in the early going, until Joe and his staff finally work up the courage to put Juan Pierre and Nomar Garciaparra out to pasture.
Milwaukee Brewers Ð 84.5
Over: There is just too much talent here to bet the under. Team defense was the crux in 2007, a problem that should be softened a bit with Mike Cameron in centerfield and Ryan Braun off of third base.
New York Mets Ð 93.5
Over: On paper at least, the Mets are the best team in the National League. Their starting rotation, which was the big question only a few months ago, now looks to be one of the best in baseball. If Johan Santana and Pedro Martinez can stay healthy, this will be a very tough team to beat.
Philadelphia Phillies Ð 87.5
Under: The Phillies' starting rotation needs a lot of help, which is not a good sign given the increased competition in the NL East. They failed to get better this offseason, perhaps Standing Pat for the final time. This looks to be a third place team in a tough division.
Pittsburgh Pirates Ð 68.5
Over: This one will come down to the wire. I'm going with a slight over, only because the new management team should fill in holes better than the old one did. Look for Jason Bay to rebound a bit, possibly becoming a more valuable piece of trade bait by midseason.
San Diego Padres Ð 84.5
Over: The Padres aren't a great team by any means, but 85 wins should be reachable. There is a lot of upside to this pitching staff, particularly if Mark Prior is healthy. Team defense could become an issue.
San Francisco Giants Ð 71.5
Under: Possibly the worst offensive team in recent memory. Matt Cain's 7-16, 3.65 ERA season may have only been the start.
St. Louis Cardinals Ð 78.5
Under: If the Cardinals fall out of the race early, we may see Albert Pujols finally go under the knife to repair his damaged elbow. The bottom may well fall out from there.
Washington Nationals Ð 70.5
Over: The Nationals got a better return for Ryan Church and Brian Schneider than the Twins did for Johan Santana. This team is young and intriguing, and has the best field manager in the game calling the shots (IMHO).
Feedback? Write a comment, or e-mail the author at mike(AT)squawkingbaseball.com