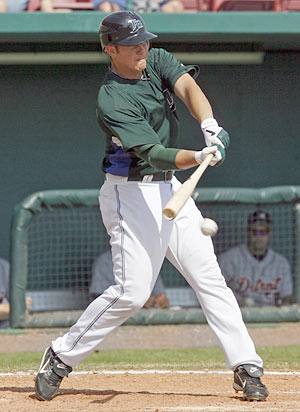 This is from RotoTimes.com, a site I actually like when it doesn't try to delve too far into analysis:
Willy Aybar remains out of the lineup due to a sore hamstring, according to the Tampa Tribune. Aybar may still be able to start at third base on opening day. He'll hold down the role until the Rays listen to reason and call up Evan Longoria.
The "reason" they seem to be referring to is that Longoria is a better player than Aybar, and therefore should be the team's starting third baseman. This has been a popular rallying cry the past few weeks, both on the blogosphere as well as in the mainstream media.
But if we're really using reason and rational decision making, promoting Longoria for the start of the season is ludicrous. Consider the upside; if Longoria is an 8.0 WARP player right now (a fairly generous assumption, well above his PECOTA projection) and Aybar is, say, a 2.5 WARP player (which PECOTA does, but in only half a season's worth of plate appearances), the difference between the two is a bit under a win per month. So if Longoria spends the first two months in Tampa instead of Durham, the Rays could see a net gain of about two wins (remember, though, that this is a high end estimate, so the real number may be closer to 1-1.5 wins).
Now, consider the downside. If Longoria spends the entire season in the big leagues, as Alex Gordon did last year, he'll become a free agent at the end of the 2013 season, instead of the 2014 season. Even if he sticks around, his cost for 2014 would be millions of dollars higher than if he was still in his final year of arbitration.
There is also the possibility, of course, that he won't stick around, forcing the Rays to replace a star-caliber third baseman in his age-28 season. This would likely cost them far more than two wins in 2014, when the team is a good bet to be at a more mature stage than they are right now.
The Gordon situation is a pretty good comp. Gordon spent the entire 2007 season (his second full year professionally) in Kansas City, struggling to a .247/.314/.411 line as the team went 69-93. For that performance, the Royals essentially traded his age-29 season. Had he started the season at Omaha, or been sent down after hitting .185/.301/.298 through the end on May, Kansas City would have still controlled his rights for the extra year.
In the end, unless those two wins end up costing Tampa Bay a playoff appearance this season (certainly possible, but not all that likely), the Rays will almost certainly come out ahead by keeping Longoria in the minors for the next month or two. And don't forget, this is a 22 year old with 128 plate appearances above AA. As impressive as he has been, and despite all the hype, he's as much of an unknown quantity as Gordon was entering last year.
Regardless, he should be up soon enough, and everybody will likely be better off. The Rays' front office members should pat themselves on the back, as they're making a very prudent decision despite some very negative press.
Feedback? Write a comment, or e-mail the author at shawn(AT)squawkingbaseball.com