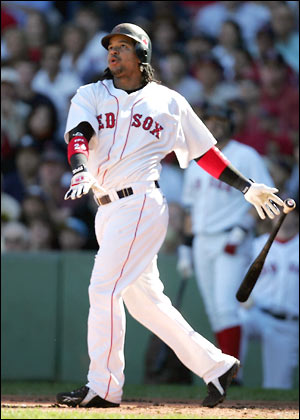 I haven't been chiming in here nearly enough, and I couldn't resist taking a look at this year's team over/unders. A lot of this is guess work, and I fully expect to look stupid on a bunch of them, but it's fun as hell nonetheless. American League today, National League tomorrow. For entertainment purposes only:
Baltimore Orioles Ð 65.5
Under: It's usually not smart to take the under on a number this low, but this was a 70 win team with Erik Bedard and Miguel Tejada. I'm a fan of Adam Jones, but this division is extraordinarily tough, and I can't see the Orioles touching 66 wins without some luck.
Boston Red Sox Ð 93.5
Over: Big Papi should regress a bit, but Manny should be Manny once again. Daisuke will likely be better, and Clay Buchholz could be a difference maker, albeit in a limited number of innings. As mentioned above, the AL East is very tough, but the Red Sox are an elite team that should beat up on the league's also-rans.
Chicago White Sox Ð 79.5
Under: I like Nick Swisher, but not this much. This team aged very quickly, and it may get a lot worse before it gets better.
Cleveland Indians Ð 88.5
Over: They should top this handily, as they bring back a team that won 96 games (91 pythag) despite some below-expectation performances from several key positions. Should win the AL Central.
Detroit Tigers Ð 93.5
Under: They've certainly helped themselves this offseason, but there are too many players on this team that played over their heads in 2007, particularly Magglio Ordonez, Curtis Granderson, and Placido Polanco. They'll be good, but 94 wins may be a stretch.
Kansas City Royals Ð 71.5
Under: I flipped a coin and it landed on tails. They should be in the 70-win range plus or minus a few. That said, if either Billy Butler or Alex Gordon really breaks out, this could end up looking very stupid.
Los Angeles Angels Ð 91.5
Over: This isn't a great team per say, but they play in a very weak division. Look for them to run away with the West.
Minnesota Twins Ð 72.5
Over: Johan is gone, but there are still enough good players on this team for them to win 73 games. If Francisco Liriano truly is back in form, they could approach .500 again.
New York Yankees Ð 93.5
Under: Jeter, Abreu, Giambi, Damon, Matsui, and Posada are all another year older, and even A-Rod is in line for some some regression to the mean. Their young pitchers are very good, but when you rely on young pitchers… With Tampa Bay improving and the Red Sox still rolling along, this could be the year the Yankees finally miss the postseason.
Oakland Athletics Ð 73.5
Over: They received some good value in this year's yard sale, and there are still some decent players left over. In a weak division, this season may not be as bad as some think.
Seattle Mariners Ð 86.5
Under: If I was a betting man, this may have been my bet. As good as Bedard and Felix are, the Mariners' offense is very weak, and they far outpaced their run differential last season. Look for them to be in the high-70s.
Tampa Bay Rays Ð 73.5
Over: Another easy one. The Rays will win more than they lose this year, and if they bring in Barry Bonds, the sky is the limit. Evan Longoria is the best prospect in baseball, and he's only the next one on the assembly line.
Texas Rangers Ð 74.5
Under: Texiera is gone, and this team is very thin around the margins (a key injury or two could really hurt). They'll have trouble keeping up with the A's and the Mariners.
Toronto Blue Jays Ð 85.5
Under: The Blue Jays aren't a bad team by any means, but they're not particularly good either. In this division, that's not going to cut it. They would have a very good shot in the NL West or Central.
Feedback? Write a comment, or e-mail the author at mike(AT)squawkingbaseball.com