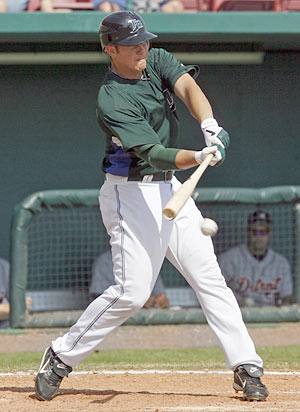 At a couple of different points in the last fifteen years or so, signing pre-arb players to long term contracts through their first FA-eligible seasons became a vogue move around Major League Baseball. It's now moved beyond that, to the point where it is widely considered a best practice in the industry.
The logic is simple: by signing players early, teams will generally extend their control over that player's service, while also saving a good deal of cash if the player pans out as expected. The Indians were famous for doing this en masse in the 1990's, and did so again with their current batch of players. Just in the last year and a half, the Rays have signed Carl Crawford, Rocco Baldelli, James Shields, Carlos Pena, Evan Longoria, and most recently Scott Kazmir to long term deals.
Most recently, teams have begun locking in players with less and less experience. Since the end of last season, Troy Tulowitzki, Chris Young, Ryan Braun, and Longoria all signed deals that buy out free agent years, despite the fact that none of them were anywhere near being arbitration-eligible.
While these are risky deals for both sides, they strongly favor the teams in terms of pure financial value. As industry revenues accelerate, the clubs are trading a small amount of risk (if the player completely craps out) in exchange for cost certainty and potentially large savings down the road. The players, in exchange, are guaranteed their first millions, which is certainly hard to turn down.
But there's another dynamic that is in play here: as more and more players sign these deals, the supply of premium players on the free agent market will continue to drop. That, combined with the growing war chests many teams have already put together, will create excess demand for whatever talent ends up on the open market.
In fact, this has likely already happened in the past few years. Teams have a certain amount of money they can spend on payroll; as revenues rise and each win becomes more valuable, those budgets increase. With a limited supply of free agents, there will inevitably be high demand for some mediocre players (i.e. Carlos Silva).
The real question is this: at what point does the potential reward of becoming a free agent outweigh the risks of turning down $30+ million when you have nothing in the bank? If supply continues to dwindle, free agency may simply become too rational a choice to pass up.
More than anyone, agents should be aware of the net losses these players are taking on; at what point do they start stepping in and advising their clients against signing long term deals early in their careers? If, in 1996, Alex Rodriguez had signed a deal with the Mariners that included team options through 2003, baseball history could have been drastically altered in many ways.
Quick side note: are any of these players represented by Scott Boras? I will do a more thorough check this weekend, but I'm curious as to whether Boras clients are any more or less likely to sign this type of deal.
Feedback? Write a comment, or e-mail the author at shawn(AT)squawkingbaseball.com