Alan Greenspan says there is still less than a 50/50 chance that the U.S. will go into a recession.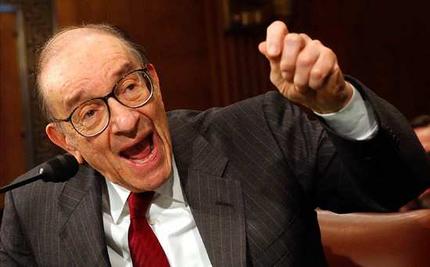 But what if it does happen? This is something for teams to consider this offseason.
In any market, investors try to buy low and sell high. The MLB free agent market is a bit different, since there really is no "sell" component (trades are the sell component for the player market as a whole, but this is a different subject). So the correct approach in this case is to buy low, and simply avoid buying high.
We've already discussed the A-Rod deal ad nauseam, but to recap, the Rangers were buying a very high priced asset at the market's peak (which we determined was a pretty transparent bubble).
Three years later, the market hit a low point, as salaries actually decreased in 2004. Looking back, that was the perfect time to buy. Vladimir Guerrero signed with the Angels for five years and $70 million (J.D. Drew money, in 2007 dollars). The Cardinals bought out Albert Pujols's three arbitration years, plus four additional seasons, for $100 million. Yada yada yada, Carlos Lee is a very lucky man.
Snide comments aside, the market hasn't yet become overinflated. Revenues continue to grow faster than salaries (although they evened out a bit last season), and teams are still making sizable profits.
But as the market continues to hit new peaks, the owners take on more and more risk. Baseball is not recession proof. Just five years ago, the sport saw its earnings get shot down out of midair when the U.S. economy went into a recession. And in fact this may be an even bigger threat to the sport today than it was then, since more and more of its revenues seem to be coming from variable sources like MLB.tv subscriptions, online advertising, and even attendance (which hit a new record for the fourth straight season).
The risk averse play this winter, as in any other winter, would be to avoid all big money contracts. But that's not entirely necessary. What's more important is to simply factor in a possible recession when determining a player's marginal revenue product.
Think about it this way. What is Jorge Posada's value to the team he eventually signs with, given the current conditions of the industry? Let's just say $12 million. But if there is a recession, and the team's revenue potential takes a hit, Posada won't be worth as much in terms of dollars. This possible downturn should be priced into an efficient market (meaning it likely won't be in this case).
As a side note, in case you hadn't noticed already, Scott Boras is absolutely brilliant. When A-Rod signed his deal with the Rangers, who would have thought a player would ever opt out of a $252 million contract? But here we are, with the market shooting upwards, and A-Rod is about to be a free agent again. It's just incredible how Boras has been able to consistently outsmart the rest of the baseball universe.
Feedback? Write a comment, or e-mail the author at shawn(AT)squawkingbaseball.com