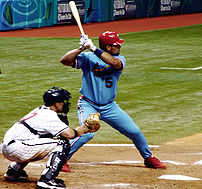 Image via Wikipedia
Albert Pujols has constantly been mentioned as a "possible" MVP candidate over the last few weeks, proving once again how broken the awards system is. Pujols is hitting .359/.466/.649, good for a .374 EqA, making up a large component of his 13.3 WARP3. Every number I just listed, aside from his slugging percentage, is a career high. So in other words, despite doing a stint on the DL in June, this is a Hall of Fame player having his best year to date. And yet, this will likely be the third straight year in which he is easily the best player in his league, but barely garners any support for MVP.
MLB At Bat for the iPhone and iPod Touch got a pretty major face lift last week, adding Gameday pitch-by-pitch, field view, box scores, and game summaries. Of course, all of that is on top of the video highlights which made the app so cool in the first place. Needless to say, this is great stuff, especially if you have WiFi. In fact, I'd say it may be a better experience than Gameday on a PC. For me personally, this would be the ultimate killer app if the box scores included OBP and SLG. For a compulsive box score reader, that's a must. But on the whole, great stuff from MLBAM.
I haven't written about the Pedro Alvarez situation because I don't have much to add beyond the incredible work Kevin Goldstein has done at BP. No doubt, this is Scott Boras trying to find a loophole that will make Pedro Alvarez a free agent. On the open market, he would probably pull in $15-20 million, making the gamble somewhat worthwhile if Boras really has something here.
Thanks to all of you that signed up for Veritocracy over the weekend. If anyone else is interested, e-mail me and I'll make sure to get you in. Also, for anyone interested in the tech space, we've got something good coming soon.
Feedback? Write a comment, or e-mail the author at shawn(AT)squawkingbaseball.com