Prediction: the New York Yankees will soon be a very profitable business.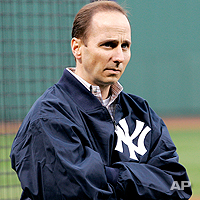 Over the last four seasons, according to Forbes, the Yankees have lost $26 million, $37 million, $50 million, and $25 million, respectively. Those were the worst operating margins in the sport in every year but 2003 (behind only A-Rod's Rangers), and they were the only team to be in the red in 2006.
Now remember, we have to take these numbers with a whole chunk of salt. Almost every franchise has one subsidiary or another in which they can conveniently hide revenues for tax purposes. The Yankees have one of the better shelters around, in the YES Network.And even if the Yankees really are losing money, it does not mean the business is doing poorly. As I've said before, the Yankee' spending habits have helped build an incredibly strong brand, which has translated itself into an astronomic franchise value. As revenues continue to rise, so does profit potential, and in turn the team's stock rises.
In 2009, we should start seeing that profit potential start to manifest itself. The Yankees have become a different animal since Brian Cashman was given the keys to the empire. Their payroll has decreased the last two seasons after rising every year since at least 1988. They've become more sensible, and less prone to lackadaisical mistakes.
Their roster at the end of this season bears all this out. The Yankees had several homegrown players in key positions (Cano, Wang, Cabrera, Chamberlain, Hughes, et al), and their bench was stocked with undervalued talent (Betemit, Duncan) instead of the typical Miguel Cairo types. Perhaps most telling of all, the team's median salary ($1.5 million) was the lowest since 2000, when the total payroll was $92 million.
They also happen to have a lot of money coming off the books in the next two offseasons, even if they re-sign Mariano Rivera, Andy Pettitte, and Jorge Posada. A-Rod and Roger Clemens will almost surely be gone. Jason Giambi and Bobby Abreu likely will stick around for one more year. Same could be said of Kyle Farnsworth and Mike Mussina (although I seem to be one of the few that think Mussina has something left). Carl Pavano will also be off the books after next season, and Johnny Damon will follow in 2009.
Clearly, there is a lot of maneuvering to be done. And while several of these big contracts will be replaced by others (Cano, Wang, Miguel Cabrera?), the next batch will almost certainly be better and more efficient than the last batch one that Cashman has control. Add to that a new stadium in 2009, and the Yankees may be printing money in the coming years.
I can't stress enough, though, it is more important for a team to win than to make an operating profit. Winning creates future revenues, which could turn into future profits, and will result in a higher franchise value. That said, the Yankees can spend a ton of money and still turn one hell of a profit. And we finally see this business model take effect within the next two years.
Feedback? Write a comment, or e-mail the author at shawn(AT)squawkingbaseball.com