A lot going on, so how about some bulletpoints: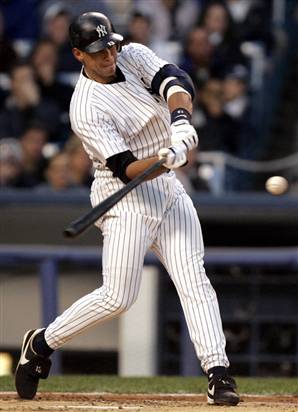 - So A-Rod has officially opted out. Shocking.
In one sense, though, I was a bit surprised. No, not that game four of the World Series became all about Scott Boras. That's not that strange. What is strange is that A-Rod didn't give the Yankees the full time window to get a deal done. I've said it before: the most logical place for Alex Rodriguez to play is the Bronx, at least based on some simple economic theory. The Yankees have the most cash to spend, and the most potential revenue coming back. It makes almost too much sense for the highest paid (and perhaps best) player in the league to work in that environment.
So where's he going? Darren Rovell has some interesting ideas, and so does Nate Silver. The California teams seem pretty logical, as would either Chicago team if they can find the cash somewhere (assuming A-Rod can still play short, which I would bet he can).
- In response to yesterday's piece about the playoffs, a couple readers brought up the soccer league format used overseas. For those unfamiliar, there are several hierarchical divisions with free entry on the very bottom. By being amongst the top teams in one division, you move up the next season. Likewise, you move down if you are at the bottom of your division. There is no salary cap, luxury tax, or revenue sharing (from what I know). At the end of the season, the team with the most points (essentially the best record) wins the championship.
Sounds pretty fair and capitalistic, doesn't it? Absolutely, and that's the problem. Sports leagues are not like other businesses. For the league to maximize revenues, every team must have a chance of winning. These soccer leagues face two key competitive problems: the richest teams almost always win the championship, and the lower-tiered teams never have a shot, even a month or two into the season. These are perceived problems in American sports (particularly baseball), but unjustly.
As I wrote already, Major League Baseball is doing a great job in maximizing its earning potential, despite the system's randomness. And when it's all said and done, fans are eating it up, at least for the time being.
- I was honestly very surprised that Joe Girardi got the Yankees job. Not that I think it'll make all that much of a difference, but Girardi was prone to over-managing in Florida. That's not going to work with the Yankees, and I figured that would have turned Brian Cashman off.
On an even scarier note, he's once again been handed a rotation with three incredibly valuable young starters. Needless to say, it hasn't been pretty for the last group he was in charge of.
- If Joe Torre really does end up with the Dodgers, I don't understand it from either end. I wonder what the terms will be, assuming this is all true.
- Chris Antonetti is perfect for the St. Louis Cardinals, and vice versa. If the world makes sense, they will dominate the National League Central for the foreseeable future.
- Speaking of which, Ed Wade is off to one hell of a start.
- While we can still make free agent predictions, I'm going to put Barry Bonds in one of two places: Anaheim if there are a number of bidders, or Oakland if the price plummets.
Feedback? Write a comment, or e-mail the author at shawn(AT)squawkingbaseball.com

<!- 8E3D4D61040E703F0360002DFF53414A ->