At just 38 years old, Manny Acta has established himself as one of the best, and brightest, managers in baseball today. After taking over a team that many thought would lose well over 100 games, Acta led the Washington Nationals to 73 victories this season, his first as a big league skipper.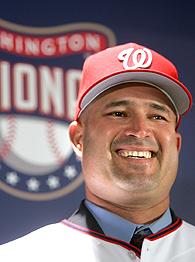 To those familiar with him, though, his success is anything but surprising. Few have been so prepared to take the reigns of a Major League team at such a young age. Acta managed in the Astros minor league system for eight years (1993-2000) before becoming a coach at New Orleans in 2001. He reached the majors the following year, working as Frank Robinson's third base coach in Montreal. In 2005, he shifted to New York, following Omar Minaya and his staff to the Mets.
He had quickly built quite a reputation for himself around baseball, both in the United States and in the Caribbean. A staple of the Dominican Winter League for years, Acta was named manager of the Dominican Republic's entry in the World Baseball Classic in the spring of 2006. Just months later, he was the new head man in D.C., taking over for his former boss, Frank Robinson.
We had a chance to sit down with Manny this weekend. The following is the full text of our interview. Enjoy.
SB: First off, congratulations. You guys certainly beat most people's expectations this season, and the team just picked up your 2009 option.
MA: Thanks. We never bought into the negative expectations. We've got some good players that are unappreciated by a lot of people. We knew that coming in.
SB: You are Dominican, and a high profile Dominican at that, since you managed their WBC team. Has that had any effect on the Nationals' approach in the market for Latin American talent?
MA: Absolutely. I know that a lot of guys from back home and from the Caribbean would like to play for a manager that can get through to them in their own language, making them feel a little more comfortable. I've also had a lot of success in winter ball, so I have a good reputation down there. And managing the DR in the World Baseball Classic has also raised my profile, like you said. It definitely has made young kids from back home more eager to play for the Nationals than before.
SB: Will you be involved in Winter Ball at all this offseason?
MA: Not coaching directly, but I still serve as an advisor for Licey. I'll also be on hand when they celebrate their 100th anniversary. I was invited as one of their ex-managers who won a championship.
SB: How would you feel about an international draft?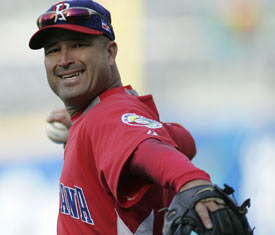 MA: I'm not a fan of it. People talk about it limiting costs by stopping bidding wars for the top guys. But that's just the top guys. For everybody else, it could actually make things more expensive. There are so many kids down there that are dying to come up and be big leaguers. The system as it is is good for both sides. If you institute a draft, less kids get signed. That's bad for the kids obviously, and bad for the teams since the more players you sign the better chances you have of striking gold.
SB: How involved are you in player development? What effect can the manager have on that department?
MA: I'm kept in the loop on everything that's going on, and I have a say in how we want things done down there. I take a lot of pride in having continuity throughout the organization, all the way from rookie ball to the big leagues.
SB: What's the plan for first round pick Ross Detwiler?
MA: We're going to let Ross dictate his own fate. When Ross shows he's ready to pitch in the big leagues, he's going be in the big leagues. If that's in 2008, all the better. We believe that left-handed college pitchers with his talent can make it up here faster than most draft picks, but he has to perform.
SB: How does the new stadium affect the Nationals' short term plans? Long term plans?
MA: The new stadium helps a great deal. Obviously there will be a lot more revenue coming in, which we can spend in different ways. It gives us an opportunity to improve in almost any area: the draft, player development, internationally, or down the road even free agency.
SB: Given the team's current position, what approach do you think you will take in the free agent market?
MA: I think its obvious that we need more than one piece. We're going try and add a few guys instead of making one big splash, because that really won't be enough to make us consistently competitive. We aren't going to derail ourselves from our plan of building this franchise from player development and scouting.
SB: What's your stance on bunting and other one run strategies?
MA: Bunting is pretty outdated. Everybody scores so many runs nowadays, it doesn't make sense to play for one run unless it's late in the game and it's close. I hardly ever bunt early in a game, unless it's with a pitcher. A big inning can win you a game. One run in the third inning can't, unless you have Pedro pitching.
SB: Lightning Round. Best hitter in the game, non-Barry division.
MA: Albert Pujols. No question.
SB: Best defensive player.
MA: Jose Reyes. Ryan Zimmerman is great too, but a shortstop will always be more valuable than a third baseman, and Reyes is just dominant.
SB: Best pitcher.
MA: Roy Oswalt. He's just tough as nails. He comes at you like nobody else. That's a tough place to pitch, and he's been very consistent.
SB: Best player.
MA: Alex Rodriguez.
SB: What's your favorite blog?
MA: Squawking Baseball, of course. I read Baseball Prospectus a lot too. Will Carroll writes some of my favorite stuff. I also loved Mind Game.
Feedback? Write a comment, or e-mail the author at mike(AT)squawkingbaseball.com