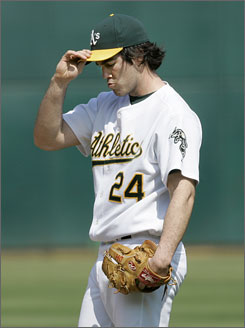 Billy Beane is baseball's Warren Buffett. Whenever the A's make a move, our ears perk up.
But when they shift their organizational strategy, everyone should be taking particularly detailed notes. Toward that end…
For the second time in Beane's tenure, the A's have reached a major transition point. The first time, he simply retooled and re-stocked, keeping the team competitive despite losing Jason Giambi, Miguel Tejada, Tim Hudson, Mark Mulder, et al. Now, he's decided to tear down what's left of the castle and rebuild, beginning Friday when he shipped Danny Haren to Arizona for six players.
If there's one thing I'll take from this trade, it's that Beane seems to realize that pitchers should be considered short-term holdings. It is generally acknowledged in the sabermetric community that relief pitchers should be the last piece added to a competitive team. But it is rarely recognized that starting pitchers should be the second to last. With all of their inherent risk factors, almost no pitcher is worth betting on long-term.
Friday's trade screams this out. Haren has three years and just over $16 million left on his current contract, a tremendous bargain for any team that would otherwise be looking to sign a free agent. But being a pitcher, his value is inherently short term.
Beane and the A's are now looking longer. To make the team a consistent competitor once again, they felt they needed to re-stock the offense first. And with that in mind, he's off to a good start, snagging Carlos Gonzalez, Chris Carter, and Aaron Cunningham in the Haren deal, along with pitchers Brett Anderson, Dana Eveland, and Greg Smith.
The first four are all good or very good prospects, with varying degrees of readiness. In adding that group to the existing core of Daric Barton, Travis Buck, and Nick Swisher, Oakland has created some serious competition for their key offensive spots (outfield, first base, designated hitter). While none of these guys seem destined for MVP awards, several could end up being star-level players. Beane is essentially throwing a bunch of stuff up against the wall and seeing what will stick.
Anderson is a very good prospect in his own right, but the A's know better than anybody how unreliable 19 year old pitchers can be. He's certainly not a throw in, but I doubt he would've been a deal-breaker either.
Don't be surprised if the A's end up with even more position players should they trade Joe Blanton or Rich Harden, perhaps a middle infielder or a catcher. Their system had become pretty depleted over the past few years, and Beane acknowledged that there was no point in trying to be a .500 team.
Just a year off the ALCS, the Billy Beane's A's are finally being forced to rebuild. We'll all be keeping tabs.
Feedback? Write a comment, or e-mail the author at shawn(AT)squawkingbaseball.com